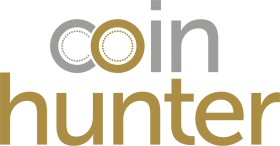 find the coin you're looking for
2011 Cardiff £1 die rotation 'inverted effigy' - error confirmed by The Royal Mint
This error Cardiff £1 has been checked by The Royal Mint Museum who have confirmed incorrect orientation of the obverse and reverse dies.
The coin struck by The Royal Mint and dated 2011 along with 1,615,000 other Cardiff 1 pound coins.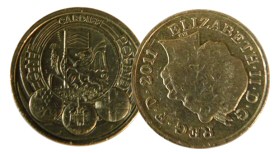 The coin was found in July 2017 by a member of the Coin Hunter Facebook Group. Julie posted this message on the 9th July.
Has anyone else come across a fake Cardiff £1 coin? I got excited until i spun it around and the queens head was upside down
Julie initially contacted The Royal Mint Museum via their Facebook page and then by phone. They asked for pictures of the coin to be sent by email.
A letter from Chris Barker, Assistant Curator at The Royal Mint Museum.
The front and back of the coin are struck at different rotation - so if you turn the coin over, the queens head is near upside down with about 135 degrees of die rotation.
The coin had been in circulation for 6 years, so die rotation errors are not easy to spot. Julie must have a keen eye, although she thought it must be a fake at first.
After comparing it with other Cardiff £1 coins and checking the weight was exacly 9.5g, she was happy it was a real coin produced by The Royal Mint - but to get the proof as a letter, hand delivered the coin on the 22nd August when visiting the Mint.
On the 17th November, this letter confirming the coin to be a genuine Royal Mint error was received.
Examination has shown the coin to be genuine, there being nothing untoward as regards its weight and diameter. The orientation of the obverse and reverse dies is, however, incorrect and is almost certainly the result of one of the does working loose and rotating during the striking process.