find the coin you're looking for
2016 Shakespeare Comedies £2 Coin
You can use the coin quick links below to find key information fast.
Buy, Sell or Swap on the Coin Hunter Facebook Group - join the group and post an image of the actual 2016 Shakespeare Comedies £2 Coin you would like to swap or sell, or post to ask for this coin and give details of the price you are willing to pay or coins you are willing to swap.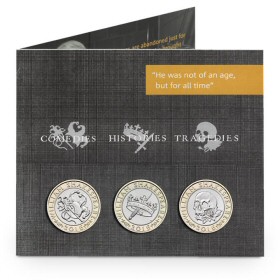 Shakespeare Three-Coin Set - Comedies, Histories and Tragedies
The William Shakespeare £2 coins were issued in 2016 to mark the 400th anniversary of his death.
The set of 3 coins include Histories, Comedies and Tragedies as a reference to the genre of plays written by Shakespeare.
The £2 coin design for Shakespeare's Comedies is inscribed with ALL THE WORLDS A STAGE and shows a jester's hat and marotte (prop stick or cane with a carved head) design.
It is the rarest of the 3 coins with a mintage of 4,355,000 – be a coin checker when you receive your change to find this coin and add it to your coin hunt collection.
The Westminster Collection has Comedies £2 coins available to buy from the Change Checker website, with encapsulated Brilliant Uncirculated coins being sold for £12.99 plus £2.99 postage.
Alloy (Inner)
Cupro-nickel
Alloy (Outer)
Nickel-brass
Reverse Designer
John Bergdahl
Obverse Designer
Jody Clark
Minting errors: Is there a Shakespeare Comedies £2 coin mint error?
Sellers of coins from circulation would like to sell coins for as much over face value as possible, so often refer to "rare mint error" in the description on marketplaces such as eBay. If you are looking to buy this coin, read this first to ensure you do not pay far more than the coin is worth as a collector item.
No mint errors for this coin have been confirmed by The Royal Mint.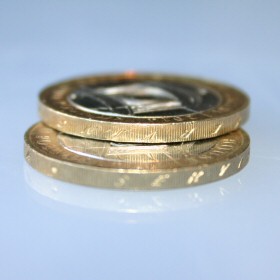 Edge inscription upside down
The inscription on the edge of the coin All the Worlds a Stage is upside down when the coin is Obverse (heads) side up.

This is common on all two pound coins and is not a minting error as the inscription is not struck a certain way up. Any two pound coin can have the writing on the edge any way up.
UK Decimal Coins
|
Coins for Sale
|
Coin Valuations
|
Coin Dealers
|
Great British Coin Hunt

© Coin Hunter Limited | Company number 10925477 England
Contact Us
|
Privacy Policy
Page Updated: 26 June 2019