find the coin you're looking for
The Snowman 40th Anniversary 50p Coin (2018)
The Snowman 50p coin is not yet in circulation, so can't be found in change, but should soon be available to buy as a Brilliant Uncirculated coin in a presentation folder from The Royal Mint.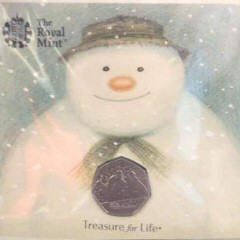 The Snowman 40th Anniversary 50 Pence
This is not the official coin design, it is a representation of what The Snowman 40th Anniversary 50 Pence might look like. All images are copyright Snowman Enterprises Limited.
The Royal Mint have created a register interest page, so you can be notified as soon at the 2018 Christmas coin featuring The Snowman is available to buy online and from the visitor centre shop at The Royal Mint Experience in Llantrisant, Wales.
The Snowman is a childrens book written in 1978 by Raymond Briggs, this book provided the story and imagery for the 1982 animated film. The famous image of The Snowman and the boy flying over fields and roof tops on their way to the north pole, is likely to be used on the new 50 pence piece.
The theme music for the journey to the north pole was "Walking in the Air" by Howard Blake, recorded for the film by choirboy Peter Auty. In 1985, Toys "R" Us created an avert based on the film, with a new version of the song recorded by Aled Jones.
How much is The Snowman 50p worth?
A 50p coin created for UK circulation by The Royal Mint will always be worth at least 50p. The coin can be in pretty much any condition and a shop will accept it as face value payment.
When a coin is considered collectable by a large number of people, even if the coin was struck to be used in circulation - it's value to a collector will rise to more than face value. In 2009 a coin was struck to celebrate the 250th anniversary of Kew Gardens, with a low mintage of 210,000 coins for circulation, the Kew Gardens 50p now sells for about 140 times face value.
The 2018 Snowman 50p does not yet exist, but when first released it will likely be sold as a presentation folder in Brilliant Uncirculated quality for £10.
If this coin is released as a Christmas gift idea, there is every chance that such an iconic and desirable subject matter will be in demand. This could lead to higher resale prices for Brilliant Uncirculated coins and circulation The Snowman 50p coins changing hands at a number of times face value.
Coin values given are based on recent sold prices as at the page updated date shown at the bottom of this page. To view the likely selling price on eBay today, use the Coin Hunter eBay sold price checker.
50p Coin Specification
Reverse Designer
Natasha Ratcliffe
Obverse Designer
Jody Clark
UK Decimal Coins
|
Coins for Sale
|
Coin Valuations
|
Coin Dealers
|
Great British Coin Hunt

© Coin Hunter Limited | Company number 10925477 England
Contact Us
|
Privacy Policy
Page Updated: 30 January 2019