Investing in Decimal Coins? 25 coins worth over £2500 today.
As we begin 2021, the fiftieth year of decimal coins, we have selected 25 coins released in the last 15 years that would have cost £184.12 when issued. Today, these coins would make up a very impressive collection worth £2,840.
Collecting coins is a hobby, NOT an investment. Here at Coin Hunter we suggest you buy the coins you like for your collection - and forget thoughts of it being an investment or an inheritance nest egg for the kids, as many of the coins issued today by The Royal Mint lose value over time.
That said, there are always a few coin releases that we all now wish we had bought as many as possible on release. (or in the case of circulation coins, checked our change and kept the coins shown here).
An items value is determined by rarity and desirability. We now know that the Blue Peter 50p - Winner's Edition is rare, under 20,000 coins produced. At just £1.99 to buy, this coin has returned over 12000% profit at today's value.
At the races, we can get lucky and pick a winner. Perhaps luck is not a key factor if we could select coins as a stock broker selects shares to buy. Whilst rarity may be unknown on release, we can assess desirability - if you like a coin and it captures your imagination, perhaps it does the same for others.
Rarity is also not a complete unknown in many cases: The Decimal Day 50p featuring the 2nd portrait by Arnold Machin is not entering circuation and will not be released as a standard individual coin pack or card.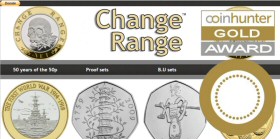 More than just the change in your pocket - uk decimal coin information.
Mintage figures shown on this page are courtesy of The Royal Mint and Gold Award recipient: Change Range.
Thank you for taking the time to read this article, I hope you found it interesting and useful.

© Coin Hunter Limited | Company number 10925477 England
Contact Us
|
Privacy Policy