Negative Image - The Royal Mint's current business plan could be costly.
In their accounting year 2020/21 – The Royal Mint returned a net profit after 2 years of losses – but accounts show there could be trouble ahead.
The most recent accounts show revenue of just over £1 billion pounds, but with costs at just under £1 billion – net profit of less than £10 million should be a disappointment for an international mint with a national monopoly.
60% of revenue comes from overseas – whilst the accounts don't separate UK and international cost of sales – it is likely that the UK business is seeing large losses year on year.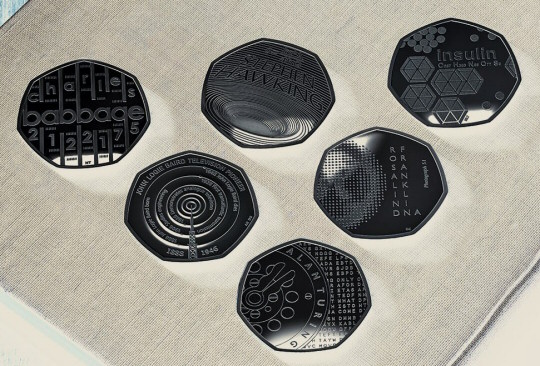 Too many products and declining sales?
With every new coin release there is a large cost that must be exceeded by the revenue generated by that coin, in order to return a profit.
Going back a few years, the 2015 75th Anniversary of the Battle of Britain 50p coin pack sold 35,199 units with additional revenue also coming from the coins inclusion in the 2015 Annual Coin Set. (17,897 units as standard BU)
3 years later, instead of one 50p as part of the Annual set and an individual coin pack – 2018 saw 8 new 50p coins released, 1 included in the 2018 Annual Coin Set and 8 as individual packs.
As you can imagine, the costs of designing and producing packaging for each coin are not insignificant – and it's likely to have been 8 times higher for 50p coins than it was in 2015.
The average sales of Royal Mint packs was 39,430 units of each – which is a very good total, but in the 2018/19 accounts year – with that level of sales, The Royal Mint made a £3 million loss after tax.
So what is happening in 2022?
The Royal Mint plan to strike 17 different 50p coins to be sold in 17 different individual packs.
Costs of production will be in the region of twice as much as they were in 2018 – when a £3m loss was reported.
The question of expected unit sales per coin and as an average can only be estimated at this time – although it will be available to The Royal Mint now for coins released earlier this year and as projections for those recently released or in plan.
As an example - in 2019 the first coin in the Innovation in Science series (Stephen Hawking 50p) was released, Coin Hunter sold 750 units on release. The reach of the Coin Hunter brand is significantly less than The Royal Mint, who we expect would have sold many thousands of coin packs on release day.
In 2022 the last coin in the Innovation in Science series was released (Alan Turing 50p), Coin Hunter sold 0 units on release (as we no longer purchase from The Royal Mint). The Royal Mint sold 2,500 units in the first 24 hours (direct sales via The Royal Mint website).
As we have seen with the 2022 Birmingham Commonwealth Games 50p coins – most sell on release day and sales quickly fall to very low levels after that.
Increasing costs of raw materials and the sheer number of different coins now being produced each year make the UK commemorative coin model employed by The Royal Mint unprofitable – even in a full monopoly marketplace.
The Royal Mint further increase their UK losses by making an alternative product available to official partners such as The Westminster Collection (288 Group Limited) and The Koin Club (Koin Limited).
Sales of loose BU coin in cards impact the sales of the packaging produced by The Royal Mint.
In 2018, 750,000 BU 50ps were sold to 288 Group at a nominal cost estimated to be in the region of 70p per coin. This represents an average of 107,838 of each 50p struck dated 2018.
So just 26.8% of the 2018 50p coins were purchased as Royal Mint coin packs, the remaining 73.2% were packaged in Change Checker cards.
If this continues, what will happen?
The Royal Mint will work very hard to make year on year losses in the UK commemorative coin market – but they will be supported by HM Treasury as the owner.
It is likely the delivery times of new releases will continue to slip as production pressures increase and customer satisfaction declines.
This will result in an overall market decline which will further compound the issue – this is expected to lead to increasing losses as sales revenue drops and production costs remain static or rise.
The Royal Mint will continue in its current role long after any other business seeking profit would have closed – or at least as long as HM Government require domestic coin production for circulation.
Can The Royal Mint return to its former glory?
The simple answer is "Yes", but the realistic answer is "No" - because the current structure at The Royal Mint is not flexible and management refuse to embrace change.
Looking at recent accounts, in my opinion it is only bullion / overseas sales that are keeping the financials from looking very poor indeed.
Circulating coin revenue is also likely to be hiding the dire state that the commemorative coin division is facing.