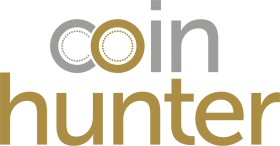 find the coin you're looking for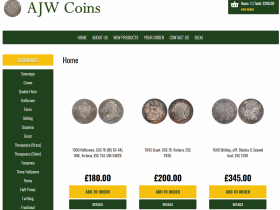 AJW Coins
British milled coins
AJW Coins sells coins from a shop located at Cabinet at Sidmouth Antique centre and via an online shop, selling coins from www.ajw-coins.com. Milled and hammered coins for sale from AJW Coins such as the Farthing, Shilling, Half Penny, Penny, Sixpence, Threepence, Groat, Florin, Half Crown, and Three-Halfpence are listed on Coin Hunter. Established in 2011 AJW Coins has been trading for 7 years.
AJW Coins
Please mention Coin Hunter when getting in contact
Contact Name

Andrew

Location

Bristol

Shop Address

Cabinet at Sidmouth Antique centre

Phone

0845 6807087 / 07517 251262

Contact Form / Email
AJW Coins
andrewwide [at] ajw-coins.co.uk
Coins for sale listed online

Yes

Website
AJW Coins
www.ajw-coins.com
Discount Codes

Yes

Buys Coins

Yes
AJW Coins are interested in buying coins. Andrew can be contacted via the website, by email or by phone.
AJW Coins have about 233 milled and hammered coins for sale from Henry II (1154-1189) to 1967.
A small selection of the bronze, silver, and copper coins currently available from AJW Coins are shown below. To see more visit the AJW Coins website or use the Coin Hunter Coin Finder to search and filter available coins.
1888 Penny, CGS 78(MS 63-64), UNC, UIN 37302 - AJW Coins
£210.00

1878 Farthing, CGS 75, Victoria, Freeman 536, UIN 21246 - AJW Coins
£80.00

1931 Shilling, CGS 75, George V, ESC 1444, UIN 26555 - AJW Coins
£40.00

1860 Halfpenny, CGS 65, Victoria, Freeman 258, UIN 23286 - AJW Coins
£75.00

1961 Penny, CGS 75, Elizabeth II, Freeman 248, UIN 22893 - AJW Coins
£16.00

1912 Sixpence, CGS 55, George V, ESC 1797, UIN 22842 - AJW Coins
£20.00


© Coin Hunter 2018