find the coin you're looking for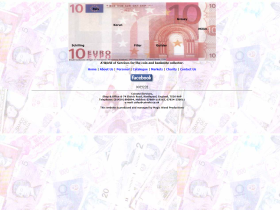 Coinote
Coins and banknotes
Coinote sells coins from a shop located at 74 Elwick Road, Hartlepool, England, TS26 9AP and via an online shop, selling coins from www.coinote.co.uk. Established in 2006 Coinote has been trading for 12 years.
An eBay shop is also available, items are sold from http://stores.ebay.co.uk/COINOTE-INTERNATIONAL-Ltd. View items listed on the Coinote eBay Shop.
Coinote
Please mention Coin Hunter when getting in contact
Location

Yorkshire

Shop Address

74 Elwick Road, Hartlepool, England, TS26 9AP

Phone

01429 890894

Contact Form / Email
Coinote
sales [at] coinote.co.uk
Coins for sale listed online

Yes

Website
Coinote
www.coinote.co.uk
eBay Shop



COINOTE-INTERNATIONAL-Ltd

Discount Codes

No

Buys Coins

Yes
Coinote are interested in buying coins and can be contacted via the website, by email or by phone.
Coin Hunter Listed Dealers:

Cabinet at Sidmouth Antique centre
0845 6807087 / 07517 251262

Postal Address: P.O Box 1219, Spalding, PE11 9FY
07950 287349

Postal Address: Kramer Mews, London SW5 9JG
07802 510980

Postal Address: PO Box 2, Monmouth, Gwent, NP5 3YE
07714 284939

Postal Address: 13 Randall Street, Maidstone, Kent, ME14 2TB
01622 236 526 / 07402 965818

Postal Address: 206 Honeysuckle Road, Southampton, SO16 3BU
02380 324258

Postal Address:
01531 670214
CoinDen UK
Rare British coins: antique and collectable old British...
Postal Address: P.O Box 1055, Aylesbury, HP20 9JX
01296 429392 / 07855 745010
coinmac
Ancient, Greek and medieval coins
Postal Address: 15 Desborough Rd, Rothwell, Kettering, NN14 6JG
01536 711086
UK Decimal Coins
|
Coins for Sale
|
Coin Valuations
|
Coin Dealers
|
Great British Coin Hunt

© Coin Hunter Limited | Company number 10925477 England
Contact Us
|
Privacy Policy