find the coin you're looking for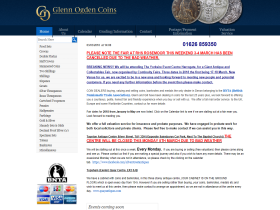 Glenn Ogden Coins
Pre-decimal, hammered and decimal coins, plus tokens and banknotes
Glenn Ogden Coins sells coins from a shop located at Cabinet at Topsham Antique centre and via an online shop, selling coins from www.glennogdencoins.com. Milled and hammered coins for sale from Glenn Ogden Coins such as the Shilling, Threepence, Farthing, Half Crown, Sixpence, Penny, Half Penny, Florin, £1, Crown, Twopence, Sovereign, Groat, £5, £2, Half Sovereign, and Double Florin are listed on Coin Hunter. Established in 1996 Glenn Ogden Coins is a member of the British Numismatic Trade Association and has been trading for 22 years.
Glenn Ogden Coins
Please mention Coin Hunter when getting in contact
Location

Devon

Shop Address

Cabinet at Topsham Antique centre

Phone

07969 204480

Contact Form / Email
Glenn Ogden Coins
glennogdencoins [at] hotmail.com
Coins for sale listed online

Yes

Website
Glenn Ogden Coins
www.glennogdencoins.com
Discount Codes

No

Buys Coins

Yes
Glenn Ogden Coins are interested in buying coins and can be contacted via the website, by email or by phone.
Glenn Ogden Coins offe a full valuation service and mail order service to the UK, Europe and some other countries, buying and selling coins, banknotes and medals.
Glenn Ogden Coins have about 1167 milled and hammered coins for sale from 1016 to 2018.
A small selection of the silver, bronze, copper, gold, and brass coins currently available from Glenn Ogden Coins are shown below. To see more visit the Glenn Ogden Coins website or use the Coin Hunter Coin Finder to search and filter available coins.
£220.00

£3.00

£100.00

£8.00

£3.00

£12.00

£3.00

£95.00

£6.00

UK Decimal Coins
|
Coins for Sale
|
Coin Valuations
|
Coin Dealers
|
Great British Coin Hunt

© Coin Hunter Limited | Company number 10925477 England
Contact Us
|
Privacy Policy