find the coin you're looking for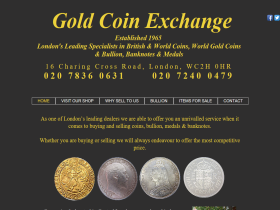 Gold Coin Exchange
Gold coins
Gold Coin Exchange sells coins from a shop located at 16 Charing Cross Road, London, WC2H 0HR and has an online presence, but does not currently sell coins from the website www.goldcoinexchange.co.uk. Established in 1965 Gold Coin Exchange has been trading for 53 years.
Gold Coin Exchange
Please mention Coin Hunter when getting in contact
Location

London

Shop Address

16 Charing Cross Road, London, WC2H 0HR

Phone

020 7836 0631 / 020 7240 0479

Coins for sale listed online

No

Website
Gold Coin Exchange
www.goldcoinexchange.co.uk
Discount Codes

No

Buys Coins

Yes
Gold Coin Exchange are interested in buying coins and can be contacted by phone.
Coin Hunter Listed Dealers:

Cabinet at Sidmouth Antique centre
0845 6807087 / 07517 251262

Postal Address: P.O Box 1219, Spalding, PE11 9FY
07950 287349

Postal Address: Kramer Mews, London SW5 9JG
07802 510980

Postal Address: PO Box 2, Monmouth, Gwent, NP5 3YE
07714 284939

Postal Address: 13 Randall Street, Maidstone, Kent, ME14 2TB
01622 236 526 / 07402 965818

Postal Address: 206 Honeysuckle Road, Southampton, SO16 3BU
02380 324258

Postal Address:
01531 670214
Paul Menzies Ltd.
Specialising in gold sovereigns
130 North Block, County Hall, 10 Belvedere Rd, London, SE1 7GH
07764209201
UK Decimal Coins
|
Coins for Sale
|
Coin Valuations
|
Coin Dealers
|
Great British Coin Hunt

© Coin Hunter Limited | Company number 10925477 England
Contact Us
|
Privacy Policy