find the coin you're looking for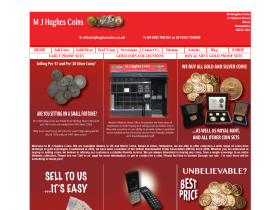 M J Hughes Coins
Gold coins, silver coins and World coins including Krugerrands, Gold Sovereigns and many others
M J Hughes Coins sells coins from a shop located at 27 Market Street, Alton, Hampshire, GU34 1HA and via an online shop, selling coins from www.mjhughescoins.co.uk. Established in 2006 M J Hughes Coins is a member of the British Numismatic Trade Association and has been trading for 12 years.
M J Hughes Coins
Please mention Coin Hunter when getting in contact
Location

Hampshire

Shop Address

27 Market Street, Alton, Hampshire, GU34 1HA

Phone

01420 768161

Contact Form / Email
M J Hughes Coins
info [at] mjhughescoins.co.uk
Coins for sale listed online

Yes

Website
M J Hughes Coins
www.mjhughescoins.co.uk
Discount Codes

No

Buys Coins

Yes
M J Hughes Coins are interested in buying coins and can be contacted via the website, by email or by phone.
Buying service available for gold and silver coins and coin sets. Silver coins from pre 1947 are made from 50% Sterling Silver, pre 1920 are 92.5% Sterling Silver. The shop and online store stock gold, silver and bullion coins, pre and post decimalisation.
Coin Hunter Listed Dealers:

Cabinet at Sidmouth Antique centre
0845 6807087 / 07517 251262

Postal Address: P.O Box 1219, Spalding, PE11 9FY
07950 287349

Postal Address: Kramer Mews, London SW5 9JG
07802 510980

Postal Address: PO Box 2, Monmouth, Gwent, NP5 3YE
07714 284939

Postal Address: 13 Randall Street, Maidstone, Kent, ME14 2TB
01622 236 526 / 07402 965818

Postal Address: 206 Honeysuckle Road, Southampton, SO16 3BU
02380 324258

Postal Address:
01531 670214
JNCoins
Hammered and milled coins
Postal Address: PO box 1030, Ipswich, Suffolk, IP1 9XL
07916 145038
John Newman Coins
Hammered coins, milled coins and tokens
Postal Address: PO Box No 4893, Worthing, West Sussex, BN11 9WS
01903 239867
UK Decimal Coins
|
Coins for Sale
|
Coin Valuations
|
Coin Dealers
|
Great British Coin Hunt

© Coin Hunter Limited | Company number 10925477 England
Contact Us
|
Privacy Policy