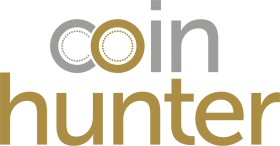 find the coin you're looking for
»

M J Hughes Coins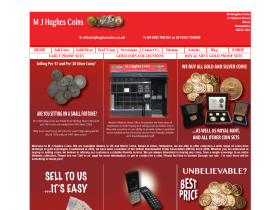 M J Hughes Coins
Gold coins, silver coins and World coins including Krugerrands, Gold Sovereigns and many others
M J Hughes Coins sells coins from a shop located at 27 Market Street, Alton, Hampshire, GU34 1HA and via an online shop, selling coins from www.mjhughescoins.co.uk. Established in 2006 M J Hughes Coins is a member of the British Numismatic Trade Association and has been trading for 12 years.
M J Hughes Coins
Please mention Coin Hunter when getting in contact
Location

Hampshire

Shop Address

27 Market Street, Alton, Hampshire, GU34 1HA

Phone

01420 768161

Contact Form / Email
M J Hughes Coins
info [at] mjhughescoins.co.uk
Coins for sale listed online

Yes

Website
M J Hughes Coins
www.mjhughescoins.co.uk
Discount Codes

No

Buys Coins

Yes
M J Hughes Coins are interested in buying coins and can be contacted via the website, by email or by phone.
Buying service available for gold and silver coins and coin sets. Silver coins from pre 1947 are made from 50% Sterling Silver, pre 1920 are 92.5% Sterling Silver. The shop and online store stock gold, silver and bullion coins, pre and post decimalisation.
Coin Hunter Listed Dealers:

Cabinet at Sidmouth Antique centre
0845 6807087 / 07517 251262

Postal Address: PO Box 352, Leeds, West Yorkshire, LS19 9GG
07527 569308

Postal Address: P.O Box 1219, Spalding, PE11 9FY
07950 287349

Postal Address: P.O Box 2330, Wiltshire, Salisbury, SP2 2LN
07825 226435

Postal Address: 28 Gatland Lane, Maidstone, Kent, ME16 8PF
01622 236 526 / 07402 965818

Postal Address: PO Box 281, Cirencester, Gloucestershire, GL7 9ET
01242 898107 / 07793 676309
Dorset Coin Company
Coins and banknotes
Postal Address: 193 Ashley Road, Poole BH14 9DL
01202 739606
DRG Coins and Antiquities
Coins and antiquities
Postal Address: PO Box 12309, Harlow, Essex, CM20 9NU
01279 492660 / 07872 632300
Edinburgh Coin Shop
Scottish and British hammered coins, World coinage, tok...
11 West Crosscauseway, Edinburgh, EH8 9JW
0131 668 2928

© Coin Hunter 2018