find the coin you're looking for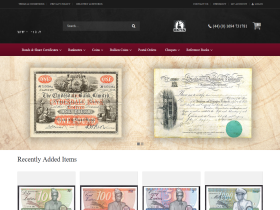 M. Veissid & Co
Coins, bullion, banknotes and bonds
M. Veissid & Co based in West Midlands run an online coin shop, selling direct from the website www.veissid.com. Milled and hammered coins for sale from M. Veissid & Co such as the Shilling are listed on Coin Hunter. Established in 1976 M. Veissid & Co is a member of the British Numismatic Trade Association and has been trading for 42 years.
An eBay shop is also available, items are sold from http://stores.ebay.co.uk/M-Veissid-and-Co. View items listed on the M. Veissid & Co eBay Shop.
M. Veissid & Co
Please mention Coin Hunter when getting in contact
Contact Name

Michael Veissid

Location

West Midlands

Shop Address

N/A

Contact Address

Hobsley House, Frodesley, Shrewsbury, Shropshire, SY5 7HD

Phone

01694 731781 / 07826 550410

Contact Form / Email
M. Veissid & Co
m.veissid [at] btinternet.com
Coins for sale listed online

Yes

Website
M. Veissid & Co
www.veissid.com
eBay Shop



M-Veissid-and-Co

Discount Codes

No

Buys Coins

Yes
If you live near West Midlands and wish to sell your coin collection, M. Veissid & Co are interested in buying coins. Michael Veissid can be contacted via the website, by email or by phone.
Having previously run as a shop called COLLECTORS GALLERY, M. Veissid & Co switched on online mail order from 2007. The website has sections relating to Bonds & Share Certificates, Banknotes, Coins, Bullion Coins, Postal Orders, Cheques and Reference Books.
Mike Veissid acts as a consultant for Spink in London and organises the London Coin Fair and the Midland Coin Fair. Visit www.coinfairs.co.uk for further information.
M. Veissid & Co have about 684 milled and hammered coins for sale from 1000 to 2011.
A small selection of the silver, bronze, gold, copper, and brass coins currently available from M. Veissid & Co are shown below. To see more visit the M. Veissid & Co website or use the Coin Hunter Coin Finder to search and filter available coins.
India: William IV, silver supee, 1835, VF, edge nick, stained
£40.00

Gallienus Bronze Antoninianus Reverse: Antelope
£30.00

Victoria, Sovereign, 1900 M, Melbourne, EF
£255.00

Staffordshire, Fazeley, AR Shilling Token, 1811, EF
£60.00

Kent, Maidstone, copper halfpenny, Henry Olivers, edge cancelled, 1795, abt.VF
£40.00

Lancashire, Manchester, Royal Casino, Promenade Concert Hall, 25mm, brass
£28.00

UK Decimal Coins
|
Coins for Sale
|
Coin Valuations
|
Coin Dealers
|
Great British Coin Hunt

© Coin Hunter Limited | Company number 10925477 England
Contact Us
|
Privacy Policy