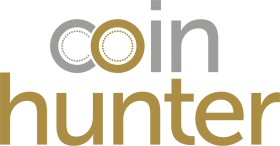 find the coin you're looking for
»

R. Ingram Coins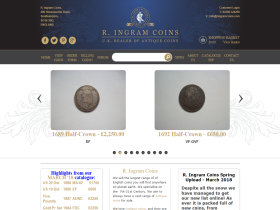 R. Ingram Coins
Antique Coins - specialist UK coin dealers of old English coins
R. Ingram Coins based in Hampshire run an online coin shop, selling direct from the website www.ringramcoins.com. Milled and hammered coins for sale from R. Ingram Coins such as the Penny, Shilling, Half Penny, Farthing, Sixpence, Half Crown, Threepence, Florin, Crown, £1, Sovereign, 50p, £5, £2, Groat, Twopence, Half Sovereign, 10p, 20p, Double Florin, and Three-Halfpence are listed on Coin Hunter. Established in 1997 R. Ingram Coins has been trading for 21 years.
R. Ingram Coins
Please mention Coin Hunter when getting in contact
Location

Hampshire

Shop Address

N/A

Contact Address

206 Honeysuckle Road, Southampton, SO16 3BU

Phone

02380 324258

Contact Form / Email
R. Ingram Coins
info [at] ringramcoins.com
Coins for sale listed online

Yes

Website
R. Ingram Coins
www.ringramcoins.com
Discount Codes

No

Buys Coins

Yes
If you live near Hampshire and wish to sell your coin collection, R. Ingram Coins are interested in buying coins and can be contacted via the website, by email or by phone.
UK dealer of antique coins online shop. A wide selection of items available with pre 1662 coins grouped by Monarch and coins grouped by categories such as:
Britannias, Celtic, Crowns, Decimals, Double-Florins, Farthings, Fifty Shillings, Five Guineas, Five Pounds Gold, Florins, Foreign, Foreign Gold, Fractionals, Gold Proof Sets, Groats, Guineas, Half-Crowns, Half-Guineas, Half-Pennies, Half-Sovereigns, Hammered, Irish, Lots, Maundy, Medals, Pennies, Proof Sets, Quarter-Guineas, Quarter-Sovereigns, Roman, Scottish, Shillings, Silver Proofs, Sixpences, Sovereigns, Third-Guineas, Threehalf-Pences, Threepences, Threepences (Brass), Two Guineas, Two Pounds Gold, Twopences, UNC/Year Sets, USA, USA Gold.
No physical shop, but do offer to value and purchase coins via a postal service.
R. Ingram Coins have about 11388 milled and hammered coins for sale from 1000 to 2018.
A small selection of the silver, bronze, copper, brass, and gold coins currently available from R. Ingram Coins are shown below. To see more visit the R. Ingram Coins website or use the Coin Hunter Coin Finder to search and filter available coins.
Sixpence 1877 AUNC
Die No.34 scarce
£240.00

£95.00

£6.00

£75.00

£5.00

£6.00

£75.00

£25.00

Half-Crown 1818 GEF
Forgery (14.10g) superb
£140.00