find the coin you're looking for
Mr Jeremy Fisher 2017 Silver Proof 50p Coin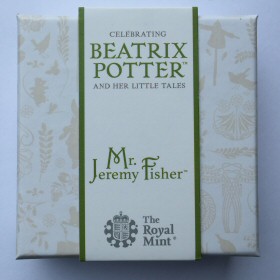 Jeremy Fisher Silver Proof Box
The coloured Jeremy Fisher 50p coin is made from silver. The sterling silver metal used in this coin is 925 parts in 1000 (92.5%) silver, so will contain 7.5% other alloy metals. A limited edition of 30,000 presentations have been minted and are available to buy now.
Coin Hunter is a trusted name with a background in creating coin related applications and supplying circulation coins, we now also supply new boxed Silver Proof coins from The Royal Mint.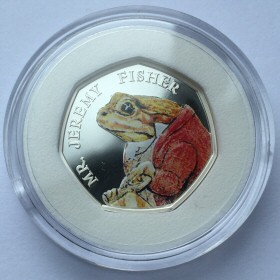 Jeremy Fisher Colour Printed Silver 50p Coin
Inside the box is a perspex block with a seperate top and bottom that are secured by small magnets. When the perspex block is opened, the round plastic capsule that contains the coin can be lifted out (shown in this image).
The colour print is applied directly to the metal to produce a high quality finish.
The plastic capsule can be opened (gently prise top and button apart at the small U shaped gap). The Royal Mint advise to avoid handling the coin as fingerprints will spoil its Proof quality.
The box also contains a fold out card of interesting information and a certificate of authenticity with numbers ranging from 00001 to 30000.
You may see similar looking coins for sale on eBay which are usually described as colour decal. These are cupro-nickel (not silver) coins with a colour printed image cut out and stuck onto the coin.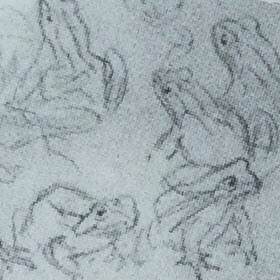 Jeremy Fisher / Frog sketches
Beatrix and her brother Bertram loved to draw and often made sketches of their pets and other animals.
Beatrix was an illustrator before she was an author, creating drawings for stories such as Alice's Adventures in Wonderland and Cinderella. She also studied at the Royal Botanical Gardens in Kew, producing detailed botanical drawings and watercolours.
As she began to write her little tales based on countryside animals, it was only natural that she would make sketches and illustrate her own books.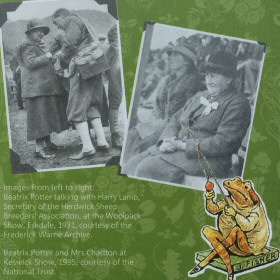 Beatrix Potter
Beatrix Potter and her little tales: Beatrix Potter is a household name most famous for creating 23 little tales that have enchanted readers young and old for more than a century.
The author and illustrator created a world inhabited by characters from the British countryside such a Mr. Jeremy Fisher the frog.
Beatrix Potter was born on 28th July 1866 in Kensington, London and died on 22nd December 1943 aged 77 years.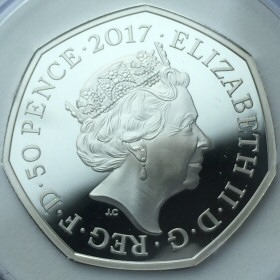 Jody Clark Silver Proof Obverse
The coin obverse shows the fifth portrait of the Queen by Jody Clark.
The image of the Queens head on the Silver Proof coin has more clarity and depth than the same image on the cupro-nickel Brilliant Uncirculated version.
Silver Proof 50p Coin Specification
Maximum coin mintage: 40,000 (30,000 as Limited Edition Presentation Sets.)
Reverse Designer
Emma Noble
Obverse Designer
Jody Clark
UK Decimal Coins
|
Coins for Sale
|
Coin Valuations
|
Coin Dealers
|
Great British Coin Hunt

© Coin Hunter Limited | Company number 10925477 England
Privacy Policy
Page Updated: 04 October 2018