Weston Super Mare
Decimal Coins
Pre Decimal Coins
Hammered Coins
Ancient Coins
Gold / Silver Coins
Tokens
Medals
World Coins
Bank Notes
Coin Dealers Weston Super Mare - buying and selling coins in Weston Super Mare and the surrounding area

Glenn Ogden Coins
UK Crowns-Farthings, Hammered and Tokens. Some Worldwide.
Taunton / Exeter, Somerset / Devon

Coins of Britain
English hammered coins and British coins from Celtic times to date
Please mention Coin Hunter when you call:
Lloyd Bennett
07714 284939
Monmouth, Wales

AJW Coins
Buy and sell British milled coins. Valuation service offered
Devon
If you are looking for a Weston Super Mare coin dealer to buy from or to sell your collection - take a look at the list below to find out more about the valuation services offered by local coin experts based in Weston Super Mare.
View the dealer summary cards on this page which includes contact details, or click each link to find out more. There is also a dealer map for the Weston Super Mare area, this shows locations of coin shops and coin dealers.
The professional coin dealers listed on this page will not be interested in recent coins from circulation. If you would like a valuation for coins found in your change, please see the how much is my 50p worth and how much is my £2 coin worth guides.
Weston Super Mare Coin Dealers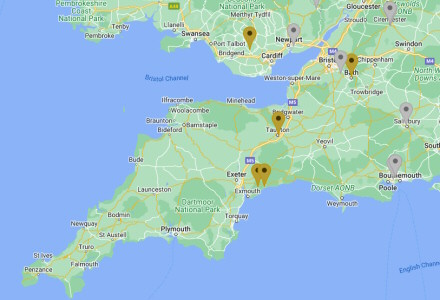 Locations of
Weston Super Mare Coin Dealers
shown in Google maps.
Saltford Coins
Rare UK coins (gold and silver coins, crowns and more) plus foreign coins, tokens and medallions
Bristol, Somerset
The Royal Mint
Gold, silver, commemorative, collectable coins and medals
Wales

Glenn Ogden Coins
UK Crowns-Farthings, Hammered and Tokens. Some Worldwide.
Taunton / Exeter, Somerset / Devon

Coins of Britain
English hammered coins and British coins from Celtic times to date
Please mention Coin Hunter when you call:
Lloyd Bennett
07714 284939
Monmouth, Wales

AJW Coins
Buy and sell British milled coins. Valuation service offered
Devon
Woosworld UK
Coins including ancient Greek, medals and bank notes
Devon