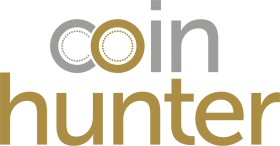 find the coin you're looking for
Coin Dealers Bath - buying and selling coins in Bath and the surrounding area
If you have a coin collection you would like to sell, we can arrange a free online assessment to be carried out by dealers in the Bath area.
Coin Hunter helps you get the best price for your collection by showing images to as many dealers in and around Bath as possible. We also offer a best price guarantee and there is no obligation to sell. To find out more, visit the sell your coins online collection valuation page.
If you are looking for a Bath coin dealer to buy from or to sell your collection - take a look at the list below to find out more about the valuation services offered by local coin experts based in Bath.
View the dealer summary cards on this page which includes contact details, or click each link to find out more. There is also dealer map for the Bath area, this shows locations of coin shops and coin dealers.
Featured Coin Dealers in the Bath area:

Postal Address:
01531 670214

Bath Coin Dealers:


Saltford Coins
Rare UK coins (gold and silver coins, cr...
Postal Address: Harcourt, Bath Road, Saltford, Bristol, Avon, BS31 3DQ
01225 873512



Postal Address: PO Box 281, Cirencester, Gloucestershire, GL7 9ET
01242 898107 / 07793 676309



coinsandtokens.com
English Coins and Banknotes (Including A...
Postal Address: PO BOX 1856, Newport, South Wales, NP18 2WA
01633 413238, 07949 652206




Postal Address:
0774 905 9341



Postal Address: P.O Box 2330, Wiltshire, Salisbury, SP2 2LN
07825 226435



Format of Birmingham Ltd
Postal Address: P.O.Box 1276, Cheltenham, Gloucestershire, GL50 9ZW
01242 518495


West Essex Coin Investments
Currency coins, banknotes and medals
Croft Cottage, Station Rd, Alderholt, Fordingbridge,, Hampshire, SP6 3AZ
01425 656459



Postal Address: Woodmancote Vale, Cheltenham GL52 9RJ
07854 547371, 01242 672 344, 07779 846 644


The Royal Mint
Gold, silver, commemorative, collectable...
Llantrisant, Pontyclun, CF72 8YT
0800 032 2154




Change Checker
Modern commemorative UK coins and access...
Postal Address: PO Box 4848, Poole, BH12 9GB
0333 00 32 777


Coin Portfolio Management
Coin Portfolio Management - gold and sil...
Postal Address: PO Box 7776, Poole BH12 9HR
0330 900 1180

Dorset Coin Company
Coins and banknotes
Postal Address: 193 Ashley Road, Poole BH14 9DL
01202 739606




Studio Coins
British hammered coins
Studio 111, 80 High Street, Winchester, Hampshire, SO23 9AT
01962 853156




© Coin Hunter 2018