Christmas Coin Hunt
Preperation is now underway for the second Coin Hunter Online Coin Hunt of 2019. After the success of the 50 years of the 50p event back in February, here at Coin Hunter we are hoping to run the first Christmas Coin Hunt this December.

What is an online coin hunt?
People check their change when buying something with cash, looking for interesting or unusual coin designs to keep. You can also look for real coins online using the Coin Hunter app. Coins are drawn from an online "circulation" (a pot of real coins); any coin you find and reserve can be ordered at face value and delivered to your home.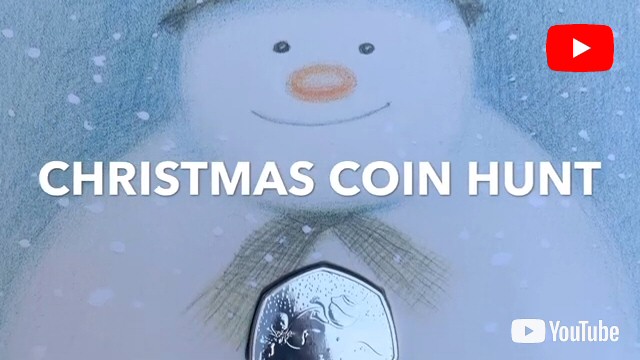 Promotional YouTube video for the Christmas Coin Hunt event scheduled for the 8th of December 2019.
What coins are in "circulation" online?
There are about 30 billion coins in general circulation, but most of these coins are the definitive (standard designs). Collectable commemorative designs, such as the A to Z 10p's can be hard to find in real change.
The online circulation pot contains many of the 50p and £2 coin designs that can be found in real change with a much higher percentage of the collectable designs that people are looking for.
A to Z 10p coins that appear in "Merry Christmas". M for Mackintosh, E for English Breakfast, R for Robin, Y for Yeoman Warder, C for Cricket, H for Houses of Parliament, I for Ice Cream, S for Stonehenge, T for Tea and A for Angel of the North.
The R for Robin 10p looks like a snowy scene from a Christmas card. If you find the special colour Robin 10p, you can order all the letters needed to spell MERRY CHRISTMAS for just 10p.
The only £2 coin with any connection to Christmas is the 2012 Charles Dickens design which shows titles of his works including the festive favourite "A Christmas Carol".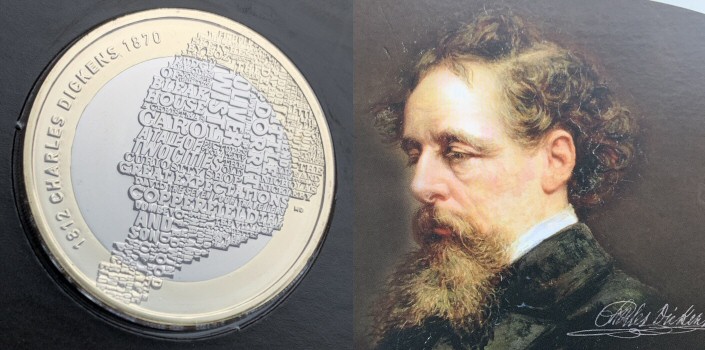 A Brilliant Uncirculated Royal Mint presentation of this 2012 £2 coin is available as a prize. There will also be plenty of circulation quality coins in the pot for you to find and add one to your collection.
If you're looking for a set of the desirable 2018 Beatrix Potter 50ps for Christmas, there will be lots of all 4 designs available including the lower mintage Peter Rabbit eating radishes and Flopsy Bunny.
As well as coins from circulation, there are also Christmas related Brilliant Uncirculated coin designs that can't be found in real change. Look out for the 2017 Christmas Tree £5, 2018 The Snowman 50p and the new 2019 Snowman and James 50p; all available to buy at face value when found in the online coin hunt.
How do I get real coins from the online app?
If you see a coin you would like for your collection, click it and click the lock button to reserve it. You then have 6 days to order the coin, or just let the lock expire so the coin goes back into circulation.
Every coin, no matter how rare or valuable can be bought for face value. Up to 3 coins at a time can be ordered, the coins are selected and securely packaged to be sent via Royal Mail to your address. Postage cost for coins ordered from this event will be £2.99.
Prizes for the Christmas Coin Hunt
Points are awarded to players based on the rarity of the coins they see in their online change, with the top 10 places at the end of the 3 day event receiving a prize.
A 1g Gold Bar from Royal Mint Bullion bearing the R.M.R (The Royal Mint Refinery) logo.
A 100g Silver Bar from Royal Mint Bullion bearing the R.M.R (The Royal Mint Refinery) logo.
2018 and NEW 2019 The Snowman 50p Silver Proof Coin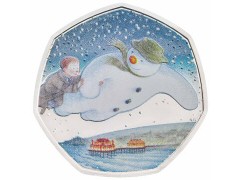 A 2018 Snowman 50p Silver Proof in the original Royal Mint packaging
The Christmas Silver Sixpence 2016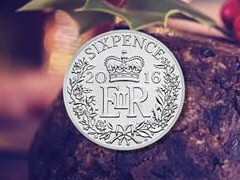 A Silver Sixpence in the original Royal Mint packaging
A Christmas Carol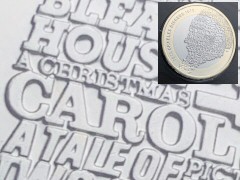 A Brilliant Uncirculated 2012 Charles Dickens £2 Coin
2018 and NEW 2019 The Snowman 50p Royal Mint BU packs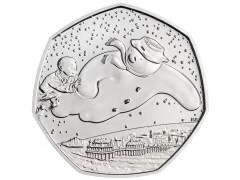 40th Anniversary of The Snowman 2018 and NEW 2019 The Snowman 50p Brilliant Uncirculated Coins
About Coin Hunter
Coin Hunter is all about including everyone in the fun and exicitment of finding a special coin design in your "change", so the hunt is open to all UK residents and free to enter.
We believe that the fun of the coin hunt is lost if you have to buy circulation coins above face value because you can't find them in your change. Finding the virtual coin you need in the app is still a thrill, as you know that you can own the real coin for face value, like finding it in real change.
If you would like to find out more about Coin Hunter or the online change checking app and the Christmas Coin Hunt, please click the contact link at the bottom of the page. There is a link to join the Facebook group, join and you will be first to know about Coin Hunter events. For press enquiries please send a message that includes the word press or phone the number shown during office hours.
The future of coin hunting?
Finding collectable coins in your change is getting harder. Shopping online has taken over from the high street, so why not check your change in the free online coin hunt to have a better chance of finding the coins you need for your collection.
UK Decimal Coins
|
Coins for Sale
|
Coin Valuations
|
Coin Dealers
|
Great British Coin Hunt

© Coin Hunter Limited | Company number 10925477 England
Contact Us
|
Privacy Policy
Page Updated: 27 October 2019