find the coin you're looking for
Coin Hunter 50 years of the 50p online coin hunt
2019 marks a significant milestone in the history of UK coinage, 50 years earlier in 1969, the first 7 sided coin entered circulation, the fifty pence piece.
Get ready for the midday start on 3rd of February
If you have registered to take part, get a head start by reading the official information and tips page.
What is an online coin hunt?
People check their change when buying something with cash, looking for interesting or unusual coin designs to keep. You can also look for real coins to keep online using the Coin Hunter app. Coins are drawn from an online "circulation" which is a pot of real coins, there is no need to buy anything to receive handfuls of "change" to check each day.
What coins are in "circulation" online?
There are about 30 billion coins in general circulation, but most of these coins are the definitive (standard designs). Collectable commemorative designs, such as the A to Z 10p's can be hard to find in real change.
The online circulation pot contains a much higher percentage of the collectable designs that people are looking for.
Like many web based services, the online coin hunt is available 24 hours a day, 365 days a year. There are also a few special events, when even more desirable coins enter online circulation.
The 50 years of the 50p event is coming soon and will see every 50p coin design from general circulation added to the online circulation pot. This includes the 2009 Kew Gardens 50p Coin which will cost 50p, as like all coins in the hunt, the person who finds it can buy it at face value.
The coins you can find online are not limited to just those found in general circulation, in the upcoming 50 years of the 50p event there will be 8 coin designs that can't be found in your real change.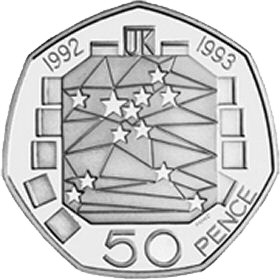 1992/93 UK EEC Presidency / Single European Market 50p
No longer in circulation coins such as the rare 1992/93 Single European Market 50p, one of 5 coin designs on the larger size 50p which were withdrawn in 1997, but are available in the next online coin hunt event.
This coin is the rarest 50p coin of the last 50 years, with just 109,000 minted for circuation, close to half of the number of Kew Gardens 50p coins.
Circulated examples of this coin currently sell for £45 to £60, but if you can find this coin in your online change - not only can you order it at face value, you will receive the 1992 UK Brilliant Uncirculated Coin Collection, which contained the coin and others released in the same year.
Not released into circulation, but can be found in the online coin hunt, briliant uncirculated quality coins such as The Snowman 50p and the Strike Your Own (SYO) 2019 Britannia which is usually only available from The Royal Mint Experience.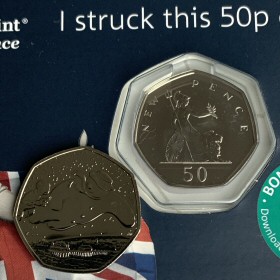 The Snowman 50p and 2019 Britannia SYO 50p
According to The Royal Mint, these 2 coins designs will not be produced to enter circulation, so will never appear in your real change. You can buy The Snowman 50p for £3.99 + postage, or for £10 + postage in a presentation pack and visit The Royal Mint Experience and pay an extra £6.90 to strike your own 2019 Britannia which shows the same design used 50 years ago in 1969.
Online Coin Hunters can find and own these coins in their "change" and spend 50p to receive the carded BU coins shown.
Occasionally, new coins that are not yet in circulation, also pop up in the online coin hunt - there will be 3 Sherlock Holmes 50p coins to find in the 50 years of the 50p coin hunt.
How can I check change online?
Checking change online is free and there is no need to download the app, as it runs just like a web page. Just go to the Coin Hunter app page and click the join button.
To watch a 30 second video that shows how the Coin Hunter app helps you find the coins you need for your collection, just click the YouTube play image.
How do I get real coins from the online app?
If you see a coin you would like for your collection, click it and click the lock button to reserve it. You then have 6 days to order the coin, or just let the lock expire so the coin goes back into circulation.
Every coin, no matter how rare or valuable can be bought for face value. Up to 3 coins at a time can be ordered, the coins are selected and securely packaged to be sent via Royal Mail to your address. Postage cost is currently £2.90, there is also a 50p handling charge per coin.
The Kew Gardens 50p is posted free with no handling charge, so you really can find and own this coin for 50p with Coin Hunter.
Prizes for the 50 years of the 50p coin hunt
Points are awarded to players based on the rarity of the coins they see in their online change, with the top 3 places at the end of the 1 day event receiving a prize.
Please note that ONLY premium upgrade players are eligible to appear in the score table and receive prizes, upgrades are available from just £3 from within the app. This is necessary to make the hunt for prizes fair, as FREE players could create multiple accounts in order to secure a top placing.
The points available for a coin that is found and locked, are deducted once from your score.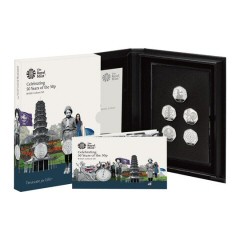 First place will receive the Celebrating 50 Years of the 50p 2019 UK Proof Coin Set. Sold out at The Royal Mint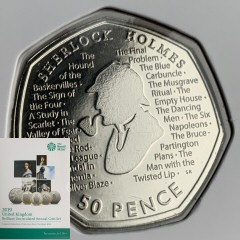 Second place will receive the 2019 Annual Brilliant Uncirculated Coin Set which includes the Sherlock Holmes 50p and the Shield 50p design.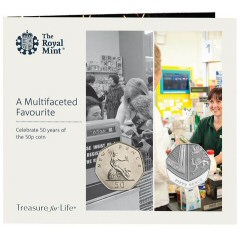 Third place will receive the Celebrate 50 Years of the 50p coin: 2-Coin Historic Set which includes an original 1969 50p and the 2019 Shield 50p.
About Coin Hunter
Coin Hunter is all about including everyone in the fun and exicitment of finding a special coin design in your "change", so the hunt is open to all UK residents and free to enter.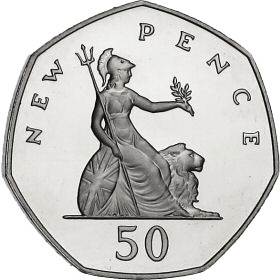 Britannia New Pence 50p - 1969 to 1982
We believe that the fun of the coin hunt is lost if you have to buy circulation coins above face value because you can't find them in your change. Finding the virtual coin you need in the app is still a thrill, as you know that you can own the real coin for face value, like finding it in real change.
If you would like to find out more about Coin Hunter or the online change checking app and the 50 years of the 50p coin hunt, please click the contact link at the bottom of the page. There is a link to join the Facebook group, join and you will be first to know about Coin Hunter events. For press enquiries please send a message that includes the word press or phone the number shown during office hours.
Find a Kew Gardens 50p
The rarest 50p in circulation is the 2009 Kew Gardens. Just 210,000 coins were minted for circuation which has led to high demand for this coin which has a collector value of £75 to £100.
Cant find it in your change? There will be one found in virtual change in the next online coin hunt. Any coin found and locked in the Coin Hunter 50 years of the 50p hunt, can be yours for face value.
The future of coin hunting?
Finding collectable coins in your change is getting harder. Shopping online has taken over from the high street, so why not check your change in the free online coin hunt to have a better chance of finding the coins you need for your collection.
As always there will be a wide variety of other coins available to find, not just 50p's. There are also £2 coins, £1 coins and the so hard to find in real change A to Z 10p coins.
UK Decimal Coins
|
Coins for Sale
|
Coin Valuations
|
Coin Dealers
|
Great British Coin Hunt

© Coin Hunter Limited | Company number 10925477 England
Contact Us
|
Privacy Policy
Page Updated: 16 January 2019